Peru surprises, intrigues, and fascinates. It's on half the world's top dream destinations, but at the same time it remains fairly unknown. Everybody wants to see the Machu Picchu, but few travellers care to explore around. And yet, imagine paying to enter the Louvre to only see the Mona Lisa. Our itinerary for 2 and 3 weeks in Peru bring you out of the Sacred Valley, to other latitudes, other realities. In fact, we've created 3 Peru itineraries: one in the north for 2 weeks in Peru with beach; one in the south for a 2 week Peru itinerary with Inca trail; one for 3 weeks mixing the two. So pack your bag and put on your hiking shoes: let's hit the road through a land of wonders.
Remember to
book your visit to Machu Picchu
long in advance if you plan on seeing it.
Here's how
.
Chances are that this Peru itinerary post contains affiliate links. We're not selling anything ourselves – we just help out products we find great. If you click one of them and decide to purchase, it'll be at no extra cost to you; and we'll get a trifle that'll help us bring you more awesome travel guides.
---
Jump to:
2 week list & map (south) |  2 week detailed itinerary (south)
2 week list & map (north) |  2 week detailed itinerary (north)
3 week list & map  |  Sacred Valley 
Budget  |  Packing list
---
Is 2 weeks in Peru enough?
Of course not! What were you thinking?
Peru is a rather big country, with sites scattered throughout its territory. So two weeks is already good to discover one region in Peru, and that's the mindset we want you to have. You wouldn't go to a restaurant during your lunch break and expect to eat everything on their menu, right? Well that's the same for a country. (I take full responsibility for this comparison.)
So you've got 2 weeks in Peru? Great: choose a region and dive in. We're offering you in this post 2 different itineraries; 1 for the South of the country and another 1 from Lima up to the North. Lima, the capital, is on the coast, at a rather central location in the country. Read through and make up your mind. 
Additionally, we're adding a description of what to see in the Sacred Valley around Cusco; that's if you want to screw the rest and spend your time there. Find it here.
How to spend 2 weeks in Peru?
On the run, probably. Whether you like archaeological sites, wild nature spots, cosy colonial towns, traditional rural life, this country has enough to get you going for weeks. There's something for everyone in our Peru travel itinerary. We're throwing everything together here, feel free to sort out what you like the most.
One thing for sure, you will gawk at the history that unfolded there. Peru and Peruvians are proud of their Inca ancestors; when you admire the precise architecture of mountain-top fortresses and the cleverness of centuries-old farming methods, you will too. But remember: not everything has to be Inca here. Discover the civilisations that taught them what they knew: explore Wari, Kuélap, Chavin and Chan Chan.
There's also a strong reliance on Mother Nature here, the Pachamama. Some time in Peru can help you renew your link to nature. You could learn about medicinal herbs like our friend Karla, who studies medicine in Germany; or get closer to your inner self through the psychedelic effects of San Pedro or Ayahuasca.
We're afraid any 2-week itinerary for Peru will involve a substantial amount of time spent on transportation. Luckily for you, busses have improved a lot since my 1st visit in 2005; they're now safe and comfortable.
Oh, one last thing before we head out. Always keep change with you because shops rarely have any; and toilet paper or tissues, because public toilets rarely have any.
---
For more practical travel tips, read our backpackers guide to Peru
---
Peru itinerary 2 weeks: South
The Southern part of Peru is the most visited in the country all year round. Any good two weeks in Peru travel guide must bring you there. This is the area you should visit in case it's your first time and you can only travel one week in Peru.
Boasting all the most famous Peru highlights such as Machu Picchu; the Sacred Valley dotted with Inca ruins; the mystical Lake Titicaca and the intriguing Nazca lines; there's enough to fill your 2-week holiday with countless adventures.
Our backpacking itinerary goes through all these sites and more without the need of taking the plane once. If you feel this is too high a pace for you, feel free to skip 1 or 2 places to enjoy one atmosphere in particular.
Days 1-2
Lima:

Historic centre
Miraflores & Barranco districts
Museums

Days 3-4
Ayacucho:

Colonial town
Market
Wari archaeological site

Days 5-8
Cusco & Machu Picchu:

Cusco old town
Museums
Saksaywamán
Machu Picchu

Day 9
Puno:
Days 10-12
Arequipa & Colca Canyon:

San Lázaro & Yanahuara districts
Monastery of Santa Catalina
Colca Canyon

Days 13-14
Nazca:
2 weeks in Peru itinerary: South
From Machu Picchu to Cusco to Titicaca Lake, the most famous spots in Peru are concentrated in the South. We list them here so you don't miss them on your backpacking Peru trip. We imagine that your Peru holidays start and finish in Lima, so we've built this route as a circle loop.
Lima is a bit of a strange case within Peru. What you'll see in the capital, and the feeling you'll get, have no equals in the rest of the country.
Firstly, it's such a big and modern city, in complete departure from the others –including Arequipa, the country's second– which are predominantly colonial and/or indigenous. It's also one of Peru's only large towns to be directly on the coast, together with Chimbote; but that's one town you want to avoid.
The coastal districts of Miraflores and Barranco, and the historic centre, are the 2 tourist magnets. They're surprisingly very far from each other, so plan 1 day on the coast and 1 day in the centre. While the latter looks clean, noble and quiet, and offers beautiful government palaces and museums, the other two neighbourhoods are young, lively, a bit hippy, and will charm you with their outdoor life, street art and trendy restaurants.
Read our tips on how to spend 1 day in Lima
As art lovers, we really enjoyed the MALI, Lima's fine arts museum. It shows the evolution of art from pre-Inca times to current days in a very fluid and interesting manner. If you want to know more, check our article about the MALI on DailyArt Magazine or the museum's official website.
The small town of Ayacucho attracts little tourism, and it's pretty much off the beaten path. You may feel it's not what you want to spend your time on; but it gives a good idea of what Peru really looks like. Plus, it splits the otherwise lengthy bus journey from Lima to Cusco.
The typical colonial centre around the central square is buzzing with life. Ayacucho ("te quiero mucho" as many Peruvians would add, taking it from a popular song) is important in the history of the country. A decisive battle was won there by the independence army, hence the statue of general Sucre overlooking the main square.
The nearby site of Wari was probably one of the largest and most advanced towns in South America. That was before the Incas arrived and sent them to oblivion. Nowadays, the site still pretty much remains in oblivion; it looks more like a cactus field than the remnant of an important civilisation. Do support them with your visit.
Start planning: our account of Wari and why you should visit it
4 days for Cusco & the Machu Picchu
Visiting Machu Picchu already requires 2 days. That's one day of travel until Aguas Calientes, the nearest town; then an early morning start to visit the site, leaving you time in the afternoon to travel back to Cusco. It's possible to travel from Lima to Machu Picchu in the same day, but that involves changing in Cusco anyway.
Please note that you're at high altitude here, so give your body a day to acclimatise. If you want to do the Inca trail, count with 2 to 4 days. It's important that you book it long in advance, as a limited number of visitors is allowed each day.
No, you don't have to use that gringo trap that's the expensive train to Machu Picchu. Read here for
the cheapest ways to get to Machu Picchu
. The 'Old Mountain' is a tad overwhelming to visit. That article also tells you how to book and the rules to follow, basically everything you need to know beforehand.
There will be no time to waste when you're in Cusco, either before or after visiting Machu Picchu. The "navel" of the Inca Empire is an exquisite mix of pre-Hispanic and colonial origins. Strolling its squares and alleyways is a continuous amazement; disturbed only by the way-too-many sellers trying to push some tour or a massage upon you.
The region around is called the Sacred Valley of the Incas and is literally filled with archaeological treasures. Jump to here to read more about what to see in the Sacred Valley.
There's not much in Puno. Actually there's nothing besides Lake Titicaca and the floating islands of the Uros people. That's a fantastic experience though; walking on floating polders made of reed, watching how this Indigenous tribe has lived for centuries.
The fact you can only visit with a tour first gave me the impression of a set-up, but it's not. Just imagine how these people might be living in their floating home, and you're out to another world!
It's a night bus journey from Cusco, and another one to Arequipa. When everything is no more than a night away, you save money on accommodation, and time on sleeping. Who needs to sleep well on holidays anyway?
3 days for Arequipa & the Colca Canyon
Arequipa the white town, with its magnificent colonial buildings made of lava rocks, was one of our favourites in Peru. Visit the San Lázaro district, the oldest part with its maze-like cobblestone streets, even better on an evening stroll; and climb up the Yanahuara neighbourhood, with its old white church and the viewpoint overlooking the city.
We really felt amazingly comfortable wandering in Arequipa, resting on its leafy squares, diving into the market hall. The modern meets the traditional, giving a feeling of cosiness, with the white stone walls everywhere.
Read more: A few of the things to see in Arequipa
If that wasn't enough –but maybe it is for you?– nature lovers will get their kick there too. The town is surrounded by no less than 3 volcanoes: Misti, Pichu Pichu and Chachani. It's also the gateway to the Colca Canyon, one of the deepest in the world. Book a 1-day tour or 2 days self-guided to visit and be mesmerised by its fauna, including the elusive condors.
Start planning with this complete guide to hiking Colca Canyon, on Brainy Backpackers
If you're up for 2 nights in a row on a Peruvian bus, you could even skip one day here. All there is to see near Nazca, when you have only 2 weeks in Peru, is really the lines.
You have 2 solutions to see those incredible patterns that remain unexplained to this day. Either you climb up a 13-meter (42-foot) tower to get a very partial glimpse of the drawings, or you spit out around US$80 for a 20-min flight above the lines. That's a decision to make between you and your budget.
When you're done, it's time to take the night bus ride back to Lima…
---
Peru itinerary 2 weeks: North
Way too many people travelling to Peru concentrate on the famous sites of the south and completely overlook the north. We can't blame them though. We've been reading a lot of "ultimate best Peru 2 week itinerary" posts and not a single one ventures north from Lima.
Here's some inspiration to go against the grain and explore the less famous parts of the country. We promise you won't regret it!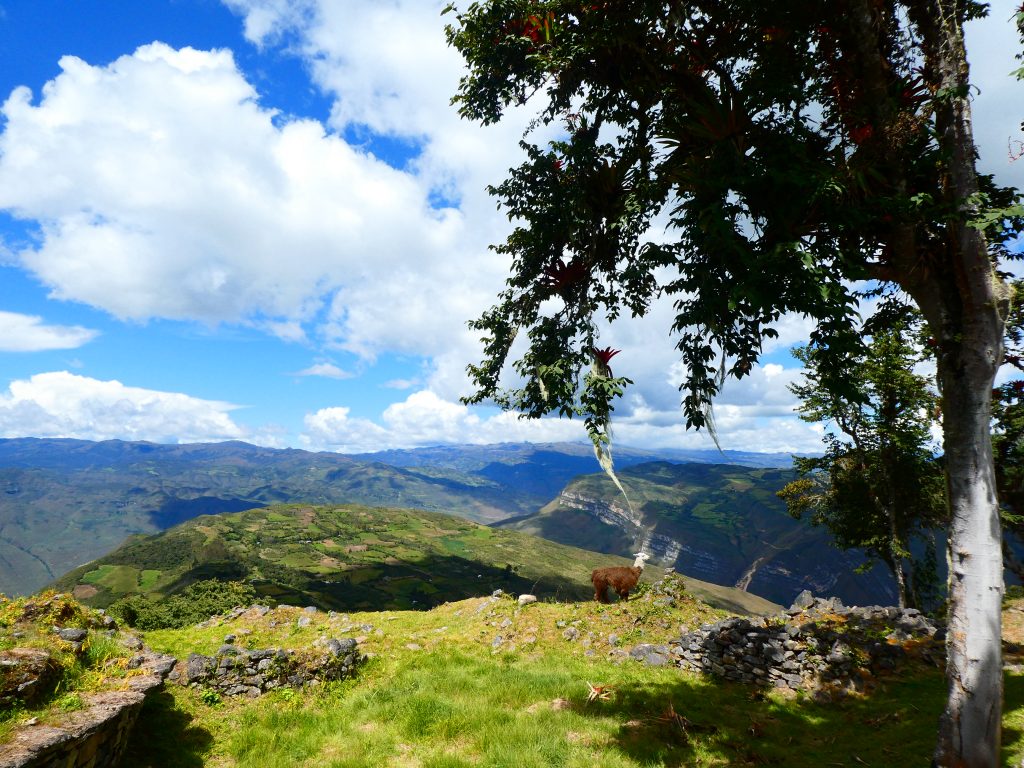 Days 1-2
Lima:

Historic centre
Miraflores & Barranco districts
Museums

Days 3-5
Huaraz:

Lake Wilcacocha
Laguna 69
Laguna Churup

Days 6-7
Trujillo:

Chan Chan archaeological site
Huanchaco beach

Days 8-9
Cajamarca:

Colonial churches
Mirador Santa Apolonia

Days 10-12
Chachapoyas:

Kuélap archaeological site
Gocta waterfalls
Leymebamba museum

Days 13-14
Tarapoto:

Cordillera Escalera jungle park
Laguna Azul
2 weeks in Peru itinerary: North
All the destinations in this Peru itinerary are a night bus journey away from each other. If that's too hard on you, you can of course travel by day, but wasting precious time on the bus. Either way, we're giving at least 2 days in every location, for a bit of rest.
See the previous 2 weeks in Peru itinerary.
If you're a mountaineer, or if you just like a li'l mountain hike now and then, listen about Huaraz. This nondescript town is the main gateway to the beautiful Huascaran National Park, a protected area of high mountains with gazillions of lakes and a couple of glaciers.
There's a plethora of beautiful day trips in the nature to be taken in Parque Nacional Huascaran. The most famous (and rightly so!) are Laguna 69, best visited with a tour, Laguna Churup and Glacier Pastoruri. They all have an entrance fee, but you can get a 3-day ticket that basically saves you 1 entrance price.
Start planning: Our favourite hikes in Huascaran National Park
A large fraction of Peru is high up in the Andes. That's beautiful, but it also has an uncomfortable effect on the body, that ranges from headache and nausea to coma. It's important that you don't run around on your 1st day in Huaraz. That's why we recommend –as everybody advised us– to start off with the small Wilcacocha lake. It's not as high as the others and the hike is way less demanding.
We really enjoyed the clean and modern feel of colonial Trujillo, with its pretty buildings and trendy places. It's a delight to wander through, stop for a coffee or a craft beer; small pleasures that are not so easily accessible in the rest of Peru.
But actually, the real attraction of Trujillo lies a few kilometres away. It's Chan Chan which, long before being a Buena Vista Social Club song, was the largest city on the continent. This 20 km² large town was all built in mud in 850 AD, that is 600 years before the Incas. It's still standing impressively by the ocean, but the wind and the occasional rain endangers its walls. Visit it before the erosion takes it!
Trujillo isn't directly on the coast, so many travellers decide to stay rather in the nearby surfing town of Huanchaco. It's small but lively, a tad crowded but with chilling vibes, and packed with hostels and restaurants. If that's not for you, it's well worth a day trip anyway.
If you need a bit of rest during your 2 weeks in northern Peru, Cajamarca is the place for you. Sure enough, there are interesting sites nearby. But what we loved the most here was the relaxing colonial atmosphere, the churches and cosy cafes; the large market and the Santa Apolonia viewpoint that's right next to the centre.
Let's mention the hot baths of Baño del Inca (which has definitely more baño than Inca); the small Ventanillas de Otuzco archaeological site; and the outstanding modern church of Polloc, entirely made of colourful mosaics. Unfortunately, the latter and some other attractions are difficult to reach with public transportation.
The most hectic travellers among you could possibly skip Cajamarca and head directly to…
This is yet another land of natural treasures and past glory. It's the land of an extinct civilisation that kept llamas and built its villages on top of mountains. Rings a bell?
The comparison with the Sacred Valley of the Incas, around Cusco, is easily done; some go as far as promoting one instead of the other. We'll tell you though: both are equally deserving.
One thing must be said for Kuélap, the capital of the long-gone Chachapoyas kingdom: it's not touristy like Machu Picchu. It's even fairly quiet, and so are the other sites nearby: the sarcophagi of Karajia, the archeological museum in Leymebamba, the mausoleum of Revash.
Intersperse these visits with some jaw-dropping nature sights, like the Sonche Canyon; or the Gocta Waterfalls, which rank among the world's tallest, hidden at the end of a jungle trail. We wouldn't be surprised if you decided to stay more than 3 days in the area!
Unfortunately, there's no night bus from Chachapoyas to Tarapoto, only minivans driving during the day. It feels endless, especially on those winding roads; but this slow arrival into the jungle is like a call for adventure!
We recommend a glance at the Amazon from Tarapoto because, despite that long minibus ride, it's more accessible than Iquitos or Puerto Maldonado, which are the other 2 jungle towns of Peru. It's also less touristy but equally beautiful and wild.
The wildest part, by the way, is the Cordillera Escalera Conservation Area, a protected piece of dense tropical forest. At the time we were there, we managed to visit it self-guided, and even camp inside. You might have to take a guide with you now, but camping should be allowed anyway.
If you want less adventurous activities, head over to the peaceful Laguna Azul and nearby natural hot pools in Sauce. Mud baths, hot water and a fresh mango juice will make you brand new. Other beautiful nature spots include Pishurayacu waterfall and Huacamayo river pool.
Tarapoto is also good if you want to experience the psychedelic effects of San Pedro or Ayahuasca. Many places near town offer several-day retreats or single sittings; but keep in mind that you need to go on a diet and with a serene spirit.
---
Peru itinerary 3 weeks
This Peru itinerary for 3 weeks rolls through the same destinations as the one for 2 weeks. It's yet again a heavy journey that implies a lot of travelling; but nothing stated here is technically impossible, and it brings you to all the highlights of this varied country.
You should really consider spending more time, say, 2 months in Peru, or even 3 months. In that case, you can use the exact same itinerary and dive deeper into every destination.
Day 1
Puno:
Days 2-4
Cusco & Machu Picchu:

Cusco
Machu Picchu
Saqsaywaman

Days 5-6
Ayacucho:

Town + market
Wari archaeological site

Day 7
Nazca:
Days 8-10
Lima:

Historic centre
Miraflores & Barranco districts
Museums

Days 11-13
Huaraz:

Lake Wilcacocha
Laguna 69
Laguna Churup

Days 14-15
Trujillo:

Chan Chan archaeological site
Huanchaco beach

Day 16
Cajamarca:

Colonial churches
Mirador Santa Apolonia

Days 17-19
Chachapoyas:

Kuélap archaeological site
Gocta waterfalls
Leymebamba museum

Days 20-21
Tarapoto:

Cordillera Escalera Conservation Area
Read both 2-week Peru itineraries above for details about the destinations.
---
To explore more natural wonders, read our selection of National Parks in Peru.
---
Sacred Valley Tour
The Sacred Valley of the Incas is that part of the Andes stretching around Cusco. It's a land of wonders for whoever is interested in lost civilisations, or simply daydreams at old stones scattered across the landscape. It's a scenery of green mountains and fertile valleys that pleases nature lovers just as much.
For the Incas, it was the heart of the Tawantinsuyu, their Empire, the centre of their world. The capital was the flamboyant city of Cusco, the "navel of the world", built in the shape of a puma.
Needless to say, there's a spinning amount of interesting sites to visit here! But in all honesty, there's no need for an organised Sacred Valley tour; you can visit all the sites on your own, at your own pace.
Boleto Turístico of Cusco (BTC)
The city of Cusco has created a single flat-rate ticket to visit all the main sites: the boleto turístico. It's rather on the pricey side, but with a bit of time and good organisation, it's completely worth it.
The Integral Tourist Ticket is valid 10 days and gives entrance to 16 listed sites and museums. It has a cost of 130 soles (35 € / 40 USD).
Here is the complete list of sites you can enter with this ticket on your own Sacred Valley tour:
Regional Historical Museum
Contemporary Art Museum
Folk Art Museum
Corikancha Site Museum
Inca Pachacutec Monument
Native Art Centre
Saksaywaman
Qenqo
Puka Pukara
Tambomachay
Pisac
Ollantaytambo
Moray
Tipon
Pikillacta
Chinchero
The Partial tickets cost 70 soles (20 € / 21 USD) and are available for 3 different routes:
Circuit 1: valid 1 day and gives entrance to the sites that are situated in Sacsayhuaman archeological park:

Saksayhuaman
Qenqo
Tambomachay
Puka Pukara

Circuit 2: valid 2 days, includes all the attractions situated in the historical centre of Cusco and the South Valley:

Regional Historical Museum
Contemporary Art Museum
Folk Art Museum
Koricancha Site Museum
Qosqo Native Art Center
Inca Pachacutec Monument
Tipon Archeological Park
Pikillacta Archeological Park

Circuit 3: valid for a Sacred Valley Tour of 2 days and gives access to:

Pisac
Ollantaytambo
Chinchero
Moray
Remember to always carry your passport (or a copy of it) to enter all the sites. More info on the official website.
Other sites in the Sacred Valley
There are still many more attractions to discover that aren't included in the boleto turístico. Machu Picchu is of course one of them.
There are several multi-day hikes leading to the famous site. We mention them here because they're more than a way: they're an attraction per se. The famous Inca trail typically lasts 4 days, with a shorter version of 2 days. The Salkantay Trek, passing near Llactapata, is a stunning variation. The demanding 2-day hike to Choquequirao can also be extended to a 9-day trail further until Machu Picchu.
Don't miss Vinicunca, the rainbow mountain, the multicoloured hill that is getting much attention lately. Visit also the Maras Salt Ponds, which provided salt to the Incas already and are still in function.
Read more about the most energising sites in the Sacred Valley

More best places to visit in Peru
Eager for more? If you're ready to add 1 week or 10 days in Peru, here are other great places to look into. Let's add more destinations to your bucket list!
Puerto Maldonado, in the Amazon rainforest
Iquitos, on the Amazon river
Pacaya Samiria National Reserve
Manu National Park
sand dunes near Ica & Huacachina
Cañon de los Perdidos
Paracas and Isla Ballestas
Pinkuylluna, near Ollantaytambo
Huancaya
Chavin de Huantar archaeological site
Choquequirao trek
Humantay Lake
Máncora, the surf town
Pampachiri
Santa Cruz Trek
Cordillera Blanca
Cordillera Huayhuash
Best time to go to Peru
Because it's so close to the Equator line, Peru has only 2 seasons. The warm but rainy weather runs from December to March. It's the low tourist season and some roads could even get cut off in case of heavy rains. The Inca trail is traditionally closed in February.
The dry but cold season is between May and September. Avoid June and August, that's the high tourist season. The best time to travel to Peru is either one of the shoulder seasons: September-November or between March and May.
2 or 3 weeks in Peru budget
Because it's so sought-after as a tourist destination, Peru tends to be slightly pricier than its neighbours. The most famous attractions can be downright expensive; but we believe the worst mistake you can make is to book in advance where it's not necessary.
Tip! Book your visit to Machu Picchu, book your Inca trail or your Salkantay Trek; for all the rest, you'll find hotels and agencies aplenty on the spot. You will (almost) always find cheaper prices there, with a possibility to negotiate.
Therefore, for 2 weeks backpacking in the south of Peru, including cheap accommodation (hostel, hotel or camping), bus transportation between destinations, entrance ticket to Machu Picchu (but not the train to get there), a 2-day ticket for the Sacred Valley, a tour to the Uros floating islands and the entrance to the Colca Canyon:
1,100 soles ($ 330 USD / 300 €)
For 2 weeks backpacking in the north of Peru, including cheap accommodation, bus transportation between destinations, entrance tickets to Chan Chan, Kuélap & Gocta, and 1 night in the Cordillera Escalera Conservation Area near Tarapoto (without the way back to Lima):
600 soles ($ 180 USD / 160 €)
For our 3 weeks in Peru itinerary including all of the above, count with an estimate budget of:
1,500 soles ($ 450 USD / 400 €)
These amounts don't include food, drinks, city transportation or any souvenir that might find their way to your backpack. Even with that, the cost should remain low for 2 or even 3 weeks of travel in Peru.
What to pack for 2 or 3 weeks in Peru?
What to wear in Peru depends on the season you'll visit, but basically it'll be either cold or wet. If you were travelling to South America to sweat in your flip-flops, you'd better change your destination!
Most sites in the South are high up in the Altiplano, where it's windy and cold. The northern half of the country turns warmer but never hot. A visit to the Amazon is hot and humid and requires long sleeves against mosquitoes.
Here's our humble take on the best, ultimate and definitive 3 or 2 weeks in Peru packing list:
Clothes:
hiking clothes (technical t-shirt, trousers, boots, fleece & thick socks)
normal clothes for the city
scarf and wind blocker
rain jacket!
a hat or something to protect your head; sunglasses
Things:
your usual responsible traveller's kit: foldaway bag, reuse cup, water bottle, water filter, lunch box, cutlery
sunscreen: even when it's cloudy, you'll often be high up close to the sun
camera
useful phrases and words in Spanish
a sleeping bag – for multi-day hikes or if you want to do Couchsurfing
a tent, but you can also rent one anywhere
Get culturally ready and learn a few words in Quechua, the language of the Andes.
★
Your legs are probably sore from many a rewarding hike. And your eyes are filled to the brim with the colours of Peru. You've met with a whole new world, and you still have a whole world to discover. By now you certainly agree: Peru surprises, intrigues, and fascinates. It will call you for more. Don't resist it.
Are you planning a trip to Peru? Are you looking for other types of destinations?
Contact us for a personalised Peru itinerary!
---
Like it? Pin it!
---
Don't miss any of our travel itineraries!