We all dream differently of South America. Some of us need to feel small in its immense nature during multi-day hiking adventures. Others want to feel the life pulsating in its cities, its street art, its sensual dances and wild carnivals. Some will want to find themselves in strange marks on ancient stones. Others still are looking forward to a cocktail on the beach, facing the warm sun and the turquoise mirror of the Caribbean. Whatever your dream is, this is your guide. We're answering here all the questions you may have, in order to help you plan your perfect budget backpacking in South America.
Chances are that this post contains affiliate links. We're not selling anything ourselves – we just help out products we find great. If you click one of them and decide to purchase, it'll be at no extra cost to you; and we'll get a trifle that'll help us bring you more awesome travel guides.
Note: our South America travel advice doesn't include the 3 Guianas (Guyana, Suriname & French Guiana) which are a complete mystery to us.
---
Jump to:
Is South America safe?  |  Backpacking tips  |  Backpacking South America budget
South American itineraries  |  Packing list  |  Countries overview
---
A few travel tips about budget backpacking in South America
South America is a whole world
The very 1st thing we want you to know is how absurd this South America travel guide is. South America is a whole world, a continent of more than 428,819,652 people living in 13 countries; meaning there are as many differences from one country to another as between, say, The Blair Witch Project and The Little Mermaid.
And because they're all equally fascinating, you'll want to travel more than 2 weeks in South America.
Don't expect to find the same situation everywhere in South America. We want you to keep this in mind while you're going through this post. If we had to make generalisations (under the torture) here's what we could say:
the most expensive and developed countries are in the southern half. That's Chile, Uruguay, Argentina (although currently under ongoing economical crisis) and Brazil. There you'll find decent roads and infrastructure the most, and a lifestyle that is the most similar to the so-called "Western world".
Brazil, though, is much livelier, more colourful, probably more 'exotic'. Its population is also more mixed between Indigenous, Whites and Blacks. It's similar to Colombia and Venezuela – but wealthier and more expensive.
the Andean countries (Bolivia, Peru, Ecuador and to a lesser extent Colombia) have a more Indigenous and traditional society, living a lot on self-sufficient farming and informal market. Expect to pay for everything there more than anywhere else. The level of life is lower, except in Ecuador, which is surprisingly more developed.
Few people speak English
That's right. It might be a tad easier in the most developed countries (remember? Chile, Uruguay and Argentina) and downright difficult in the rest of the continent. Of course, your hostel staff will be able to help you; but that might not even be the case in Bolivia or Paraguay, or in the less touristy areas.
The best thing is really to pick up some Spanish (and Portuguese, if you travel to Brazil) before travelling to South America; or even along the way, like many long-tern travellers manage to do. Even the basics will procure peace of mind; you'll be sure that you get understood, understand where you're going, and aren't abused with prices.
There aren't many vegetarian or vegan options
South America is definitely a meat-eating continent. For most people there, a meal without meat isn't a meal. If you feel nauseous at the mere sight of meat, you want to avoid adventuring to markets or going anywhere near street food carts.
Don't worry though, you'll find veggie and vegan restaurants in all the big cities throughout the continent. In many places, Asian all-you-can-eats do the trick perfectly, especially in Argentina; and for a cheap price.
The least veggie-friendly countries are Bolivia, Venezuela and Paraguay.
The countries that are the most veggie-friendly are Argentina and Uruguay (which have a similar cuisine by the way). Peru's Sacred Valley, in particular Cusco, are also surprisingly vegan-friendly due to the crowds of hippies passing through; don't miss the falafel in "San Blas" market!
Of course, nothing stops you from cooking yourself. The fresh fruits and vegetables grown in most of those countries are so appetising!
The Andean cuisine is heavy on the meat, to say the least. Yet, it's easy to eat vegetarian at markets' comedores: you just need to ask. Let me tell you though, it won't be light; the meat is usually replaced with fried egg or plantains.
Markets are the Mecca
If you've been around Green Mochila long enough, you know that we are real market fanatics. It's cheap, it's colourful, it's authentic, the produce are usually local and the meals follow regional recipes. Bring your own bag and it's also plastic-free. What's there not to like about it?
We cook a lot on our travels, and we usually get our veggies from the market. We look around and ask for prices to compare. When we're set on a seller, we get as much as possible from them, so they give us a good price; maybe they even give us something extra, what they call the "yapa" in several countries.
We also eat lunch at markets, there's always a "comedor", some place where the ladies cook. There are also freshly squeezed fruit juices and snacks all day.
Markets are also a great place to have a little chat – provided you know a bit of Spanish/Portuguese. How many things did we learn just sitting down on a market bench!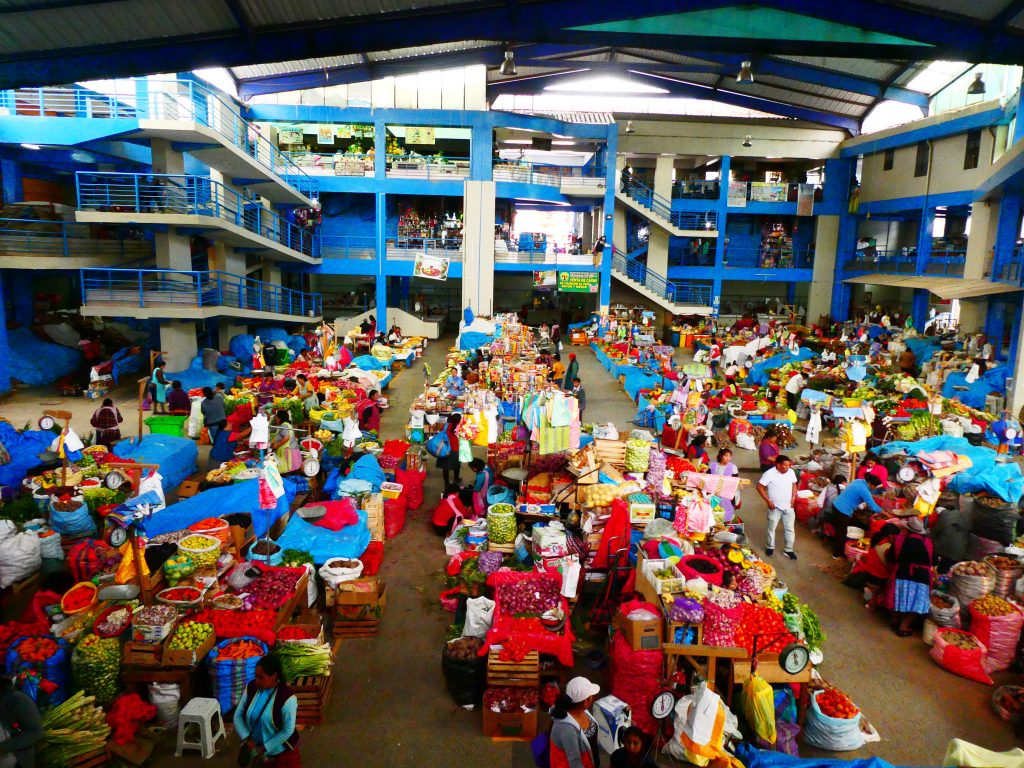 Is backpacking in South America safe?
People often ask us if it's safe to travel in South America; or they do like our mums and just take for granted that we'll be kidnapped and they'll soon receive our ears for ransom.
There have been, and there are still, stories of violence across Latin America. But in most parts, you're just as safe as in your hometown. It's also just as safe backpacking South America solo as in a couple or a group. Like everywhere really, you should be aware of where you go, of the situation around you at all times.
Keep an eye on your belongings, especially in crowded places. Don't walk around with your valuables showing. What we always do when we arrive in a new town, is ask at our accommodation if there are neighbourhoods we should avoid. Even the way they answer gives us an idea of the local safety.
There are a few places on the continent where you should pay extra attention. Not places you should avoid, just where bad stuff is a bit more likely to happen. There again, ask locals and they'll give you tips.
Places in South America where you should be extra careful:
All Colombia, even in smaller towns
Large Brazilian cities: Rio de Janeiro and Salvador in particular
Some capitals: Lima in Peru, Quito in Ecuador
Venezuela is a no-go right now, with its current situation and everyday violence
It's more likely that that you end up paying double price for things, especially if you don't speak the language. In Bolivia and Peru in particular, sellers think gringos are rich and don't mind spending extra. We advise that you spend your 1st day in each country checking how much things cost, to get an idea.
Before budget backpacking in South America: travel tips and facts
Transportation
Distances are big on the continent, and you will often have to endure 8 to 10-hour bus rides to reach your next destination.
It's actually ideal; we always chose a night bus to save one night in an accommodation, arrived early morning in a new place, freshly rested and full of wanderlust. Well, theoretically. That depends much on the state of the road and the eagerness of the driver.
Unless you're travelling to remote locations like the Galápagos, Easter Islands or Iquitos, nothing justifies taking a plane. If your next destination lies more than 15 hours away, there's something wrong with your route. Think it over. Maybe you need to add a stop in-between? Maybe you'll discover an unknown place you'll fall in love with?
Read our guide to bus transportation in South America
Independent travel vs South America tours
Some agencies offer South America backpacking tours, that include a visit to some of the most famous locations on the continent. For a flat rate, they rush you from one site to the next, crossing towns and borders like nothing happened. We heard of tours that range from 1 to 4 weeks.
As you may guess, we wouldn't recommend that much. Of course it's comfortable. But you'll just see sights without understanding what they mean in a local context. An independent travel allows you more time and attention to places, people, meanings.
Tour companies want you to think that some places are impossible to visit without them. Most of the time, that's not true. There's almost always a bus to get there, people on-site to help you out, a single ticket to buy. And all this much cheaper on the spot.
Our best tip: Even if you're not an independent traveller at heart, don't get ripped off online. By booking in your home country, you get prices that can be 3 times the average price on-site. Trust the local companies.
Couchsurfing
It is in general fairly easy to use Couchsurfing anywhere on the South American continent. From our experience, the only exception is Bolivia, where the community is very small.
As a rule of thumb, send your requests about 7-10 days before your arrival – a bit more for touristy places. People from South and Central America are spontaneous folks, so a request that's earlier than that will probably get a 'no', as they don't want to compromise so long in advance.
Latin Americans are very friendly and always ready to help you. They will treat you as a close friend right from the start, often in a very expressive manner (except in the Andes, where people are colder). They will also welcome you in a space that we would consider too small; or in a situation where we would generally abstain. With this, we mean that you should be ready to sleep eg. on a simple mattress in the living room.
Cost of backpacking in South America
The best way to help you budget your backpacking in South America is to give you a breakdown of our own costs, in 2019.
Bear in mind that we're hardcore budget travellers. We use Couchsurfing most of the time, otherwise we look for the cheapest accommodation; travel by bus and hitchhike from time to time; speak both Spanish and Portuguese and can barter the prices; walk around cities and look for free events. Having said that, we don't skip any major attraction.
Backpacking South America budget (per person per month):
Brazil: 630 € / 700 USD
Argentina: 215 € / 240 USD
Bolivia: 400 € / 450 USD
Chile: 315 € / 350 USD
Colombia: 240 € / 270 USD
Peru: 220 € / 250 USD
Uruguay: 270 € / 300 USD
Our best tips on how to travel in South America on a budget:
buy ingredients from the markets, cook food and bring it in your lunch box to eat during the day
try to haggle and negotiate, from food to bus tickets to hostel nights; for this, you'll need to speak some of the language
instead of restaurants, eat local food at market canteens and street food
use Couchsurfing, or camp with your tent
exchange your hostel nights against a volunteer job or a workshop in your speciality
hitchhike whenever possible, including to tourist attractions that are only reachable by car; there will be other tourists going there and willing to help you out
many museum have free entrance once a week; check their website beforehand
look for free events on the internet; there are more than you think!
walk instead of taking the public transportation; it's also the best way to discover a city
And even some tips on how to make money on your South American trip, if you're not a digital nomad:
if you know how to dance, juggle or make music, do that on the street; there's a heavy Argentinian competition though
sell homemade food on the squares (cake, fruit salad, vegetarian sandwich)
learn how to make bracelets and sell them; you can even exchange them for food at the market (true story, our Spanish friend Isa did that regularly while backpacking through South America)
---
Got more tips for fellow backpackers in South America on how to save or make money? Share them in the comments!
---
South America backpacking routes
How long do I need to backpack South America?
South America is big – have we said that before? We mean that there's no need to rush and have one large South America itinerary, to see all the main spots in a short period of time. With the cheap flight deals we find nowadays, you'll have occasions to come back several times. Honestly, a 'South America itinerary 2 weeks' is an aberration.
For a 1-2 month South America backpacking trip, consider sticking to one country or region. Eg. Patagonia in Argentina/Chile; the Southeast of Brazil; the Andean countries Bolivia and Peru. Staying in a region will offer continuity in the local culture, allowing you a better understanding thereof. You'll also remain in the same climate, which can make the packing dilemma considerably easier. And that's not a detail.
For these reasons, and to reduce your impact on the environment, consider a slow way of travel, one that doesn't involve flights. Think that you're on a faraway continent, a new world to you. Who can tell what's unrolling under the wings of your plane? Who says it's not worthy of your attention?
We think that 3 months in South America is already a good time. We've brainstormed and came up with a few options for backpacking routes in South America, depending on the time you have and on your interests. We've chosen them on geographical and cultural criteria.
3-4 month South America backpacking itinerary
This route will bring to you all the wonders of the most diverse countries on the continent. Stretching from frozen glaciers down sky-high mountains to sandy deserts with geysers and quirky rock formations. From the flat pampas to moody islands and further to perfect surf spots. Also to buzzing metropolises, cosy towns and fascinating villages.
Start your backpacking trip either in Buenos Aires, Argentina, or Santiago, Chile. After spending a few days there, make a loop according to the season; the south reaches freezing temperatures in winter, and the north can be unbearably hot in summer. So calculate well the best time to travel to South America. See the Countries Overview underneath for the places to see on the way.
Andean countries: Bolivia, Peru and Ecuador
This backpacking route will bring you through the most traditional region in South America. Colonial towns and Indigenous villages, but also unique landscapes and a myriad ancient ruins and sacred places. It's a perfect trip if you're into history or want to spend time in remote nature; jungle forest, tall waterfalls or wind-swept beaches.
It's a land of high plateaus, so it'll be cold all year round, especially in Winter (June to early September); the rainy season can be heavy and block roads in January-March. Mind the altitude: it's important that you take the 1st couple of days to acclimatise.
You can either start your travels in Quito, Ecuador and go down, or in La Paz, Bolivia and move north. Note that Bolivia is the least developed country among them and Ecuador the most developed, with all comfort and services. See the Countries Overview underneath for the places to see on the way.
With 7,491 km (4,654 miles) of coastline, you'd have a lot to see on a trip down (or up) Brazil. You'd be riding through large modern cities, smaller towns and fishermen's villages; the jungle in the north and the flat grasslands of the south. Always keeping an eye on the immensity of the Atlantic ocean.
Start in Belém in the north or in Porto Alegre in the South; or the other way round, from the region with the most European roots to the one with major Black ancestry.
Caribbean countries: Venezuela, Colombia and their islands
To feel the warm sun on your skin and meet people who talk easily on the street, head over to the Caribbean. That's among the most joyful, loud and colourful parts of the continent. This route goes through Colombia, Venezuela and their islands; with extra time and money, maybe you can visit some of the island nations above: Aruba, Curacao, Trinidad & Tobago.
Because the southeastern part belongs to the Amazon rainforest, the best is probably to start in Bogotá or Medellín, Colombia. From there, you should 1st go south to see Cali, Popayán, the Coffee Axis and the Tatacoa desert. Then make your way to the coast and follow along at your own rhythm.
On your way, colonial towns, peaceful beaches, fishermen's villages, stunning national parks and the tallest waterfall in the world.
Warning: as of December 2019, travelling to Venezuela is strongly inadvisable.
6-month backpacking South America routes
Andean countries extended: Bolivia, Peru, Ecuador and Colombia
To what's been said in the 3-4 South America travel route already, we're adding Colombia. The south of the country is high up in the Andes, and is culturally attached to the "Andean countries".
You'll need to pack heavy for this route, as it'll bring you through cold high plateaus –that should be avoided during the rainy season in January-March– and under the hot temperatures of the Caribbean.
Mind the altitude in the Andes: it's important that you take the 1st couple of days to acclimatise. For this reason, it might be better to start your trip in Colombia and head southward to the highest altitudes. See the Countries Overview underneath for the places to see on the way.
Besides its immense coastline that we've discussed in the 3-4 month itineraries, Brazil has a world to offer. Indigenous communities deep inside the rain forest, living side by side with an amazing wildlife. Colonial towns built around the mining industry. Modern cities that are gems for foodies and street art lovers.
We don't think you can visit Brazil entirely, even in 6 months. The distances are so big, the forest is so thick; the people are so friendly that you will want to stay longer everywhere.
the Southern half: Chile, Argentina, Uruguay and Paraguay
Probably my favourite South America travel itinerary. Let's add to the 3-4 month Chile/Argentina itinerary two more countries, shall we? Please meet Uruguay and Paraguay. If the former is a very modern and progressive small country, the latter is rather rural and stuffed with forest.
Uruguay is therefore a comfortable, albeit slightly expensive travel destination. Paraguay on the other hand is rather poor; but it offers some precious natural areas, colonial towns and the famous Jesuit ruins lost in the forest. See the Countries Overview underneath for the exact places to see in both.
You could start this backpacking trip through that half of South America in Buenos Aires or Santiago de Chile again. You'll just do a wider loop, there again minding the seasons and the climates.
For more inspiration, check the map of our own 10-month South America backpacking route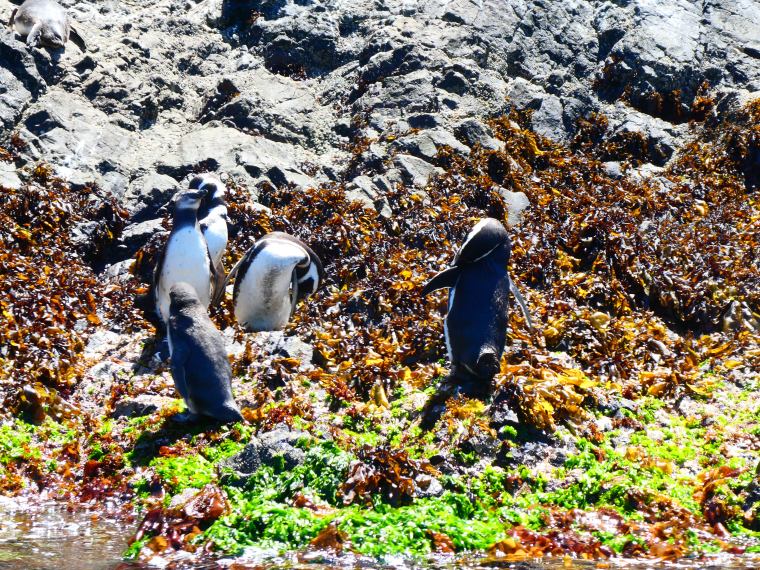 Where to start budget backpacking South America?
This probably depends mainly on where you'll find a cheap flight to. If you follow our advice and concentrate on one region, you can easily make a loop and leave from where you started.
Long-time travellers should get any best-amazing-discounted-promo flight to Anywhereville, then work up their route from there; if you don't know where you'll be at the end of your trip, you can always buy a return ticket one month in advance.
We started our trip in Salvador de Bahía, Brazil, simply because it was the cheapest we found. Actually, the 5 or so cheapest destinations from Europe were in Brazil – go figure. From there, we built our backpacking itinerary in South America with a few weeks in advance. We kept hearing about new places along the way, so our route kept changing. It's important to be flexible.
Here are the questions you should ask yourself:
which countries do I definitely want to visit?
If you want nothing else but Argentina and Colombia, that's going to be tricky, geographically. But if you're open-minded, we promise that you can be fascinated by every place.
are there festivals/celebrations I want to see?
Celebrations in South America are often beautiful, so full of life, music and colours. Plan well in advance if you're interested in any of them. If you aren't, then stay away. Towns are full and it becomes really hard to find accommodation; things also get suddenly expensive.
which weather am I ready to cope with?
Remember that all the South of the continent gets freezing cold in winter (June-August); the North can be intolerably hot at the same time, when it's summer there; and the rainy season in the Andes can be downright miserable, between January and March.
How do you travel between countries in South America?
As we said before, if you restrict yourself to one region, or if you have unlimited time, there's no need to take a plane. Taking the bus to go from one place to another will become a routine; one that is usually cheap and doesn't need booking much in advance.
Crossing a border by bus is not more complicated than that, but it takes time. Add 30 min to 2 hours of red tape to the normal journey. Better even: ask the person you get your bus ticket from, they will know.
What to pack for a backpacking trip in South America
What you need to pack boils down again to what regions you'll be visiting. We hope this guide has already given you a precise idea of the climate you can expect there. We're giving you a list of what is either indispensable or goddamn handy to have on your travels in South America.
Now don't be scared by the quantity, we're just trying to be comprehensive!
Our tried and tested backpacking South America packing list:
Clothes:

hiking clothes (technical t-shirt, trousers, boots, fleece)
thick jacket for Patagonia or the Andes
rain jacket
flip flops/sandals, for the beach or indoors
swimming suit
a hat or something to protect your head; sunglasses
big scarf that can be used also to sit down on
Don't bring a lot of stuff if you go to Bolivia, Ecuador or Peru because there are beautiful clothes there to buy for cheap. So leave space in your bag.
Things:

your usual responsible traveller kit (foldaway bag, reuse cup, water bottle, water filter, lunch box, cutlery)
sunscreen
camera
useful phrases and words in Spanish and Portuguese
a tent if you want to camp
a sleeping bag even if you don't camp but want to Couchsurf

Apps:

maps.me: very detailed maps that can be downloaded, perfect for nature hikes
wikiloc: precise hiking trails with descriptions, maps and tips, works offline with a small fee
VidaLingua: a great language app to get you starting on the lingo

Entertainment, especially good for long-term travels:

1 book: you can swap it indefinitely in every hostel or cafe that offers book-swapping
a pen drive to either load photos or swap films
playing cards, it's always a great way to make friends (and extra money?)
A brief overview of South American countries
If your idea of South America comes from 100 Years of Solitude and Jurassic Park, you're in for a surprise! As a vast continent subject to many influences and to different levels of development, there's not one but several realities.
Here's a brief description of each country; a note on what kind of travellers they can attract; and some of the best places to visit in South America.
Colombia:
A colourful country where the north is hot Caribbean beaches, the east is dense rain forest and the south is the cold climate of the high plateaus. Distances are big and roads are in badly need of repair. People are very welcoming but deserted streets and paths can be dangerous.
1 or 2 months.
Hiking and horse riding in the jungle or in low mountains; hot days at the beach; church-hopping in pretty colonial towns and interesting museums; scuba diving; greasy street food.
Medellín, the friendly city
Guatapé, a very colourful village
Off the beaten path:

the Lost City trek through the jungle
Tatacoa desert, hot rock formations
Caño Cristales, the "Rainbow River"

Don't forget:
"Don't give papaya", meaning don't flash your belongings at will. Colombia can be risky, so keep your wits about you at all times.
---
Read our complete guide to backpacking Colombia
---
Ecuador:
A developed country with good roads and infrastructure. A landscape divided in 3 stripes: warm coast, cold Andes, humid rain forest. The Indigenous traditions are mixed with a modern-ish lifestyle. Mind the high altitudes and medium temperatures all year round.
3 to 4 weeks.
Hiking in very different landscapes; unique flora and fauna; nights out in party places; comfortable stays close to nature and traditions; outdoor activities.
On the beaten path:

Quilotoa Loop around a volcano lake
Galapagos Islands and those crazy blue footed boobies
Baños, an adrenaline-filled mountain town

Off the beaten path:

Cuenca, lively colonial town
Vilcabamba, the hippies' haven
Cajas National Park

Don't forget:
Your US dollars. That's Ecuador's official currency since 2000. But beware: all US coins can be used in Ecuador, but the money coined in Ecuador is of no worth in the USA.
---
Read our complete guide to backpacking Ecuador
---
Peru:
A stark contrast between mass-tourism spots and the underdeveloped rest of the country. Therefore bad off-the-beaten-path infrastructure but not lacking. Strong Indigenous traditions and an active market life. Mind the long travel distances, and the high altitudes with cold temperatures in the Andes and humidity in the Amazon.
1 month or more.
Old ruins and pre-Hispanic civilisations; hiking to very remote nature places; impressive natural landmarks; greasy street food.
To always double-check prices. Tourism is big in Peru and sellers, bus drivers and tour operators often want to take advantage of tourists.
---
Read our complete guide to backpacking Peru
---
Bolivia:
A very poor and cheap country where infrastructure is lacking. There's a very tangible traditional Indigenous lifestyle and an active market life. The roads are really bad and can make many places secluded or cut-off in the rainy season. Keep in mind the high altitudes with very cold temperatures.
2 to 4 weeks.
Adventure backpack trip in authentic destinations; budget travel; unique landscapes; street food.
On the beaten path:

Titicaca Lake and its sacred islands

Off the beaten path:

Sucre, white colonial town
the wilderness of Noel Kempff National Park
Sajama National Park

Don't forget:
Your toilet paper. Services are lacking in the country, and paper in public loos is part of it. Also, always have some coins with you, as sellers won't have the change.
---
Read our complete guide to backpacking Bolivia
---
Chile:
A very developed and expensive country where prices are similar to Europe and North America. Most towns are multicultural, with many expats and high-end locales. A constant informal street market, everywhere. An overly stretched country with very long distances.
1 or 2 months.
Unique landscapes; comfortable towns with all services; nightlife and culture with interesting museums; road trips and slow travel and outdoor activities; street food.
On the beaten path:

Torres del Paine National Park in Patagonia
Valparaíso, colourful university town

Off the beaten path:

Chiloé, a rainy archipelago
cosy Puerto Varas and Volcano Osorno
Humberstone, an abandoned mining village
---
Read our complete guide to backpacking Chile
---
Argentina:
A very European population with high living standards and a vibrant city life. It's a developed country with very good infrastructure. The people are very friendly and incredibly helpful. Mind the ongoing economical crises that make cheap and changeable prices. A large country with very different climates and long travel distances. It gets very cold when you travel south. If we had to choose the best country in South America, that would be Argentina.
1 month or more.
Comfortable holidays or "staycations"; nightlife and culture with interesting museums; outdoor activities; budget travel and hitchhiking; road trips; very diverse and equally stunning landscapes; foodies and vegetarian travellers.
On the beaten path:

Patagonia, from the 'Lake District' to Perito Moreno glacier

Off the beaten path:

wines and fun in Mendoza
Córdoba's mountains

Don't forget:
Argentinian Spanish is rather special; even if you've learnt Spanish, you might feel somewhat stranded at first.
---
Read our complete guide to backpacking Argentina
---
Paraguay:
A poor and very rural country where the Gaucho traditions are still very strong. Expect cowboys working in ranches and drinking cold mate ("tereré") all day, that sort of things. Asunción is among the oldest capitals on the continent and still retains, at least in part, some colonial charm.
2 or 3 weeks.
Off the beaten path travels; rural stays; remote nature and wildlife encounters; budget travel; slow travel; cheap shopping.
On the beaten path:

Jesuit ruins
Ybycuí National Park
Asunción, the capital

Off the beaten path:

Gran Chaco, dense forest and plains
Encarnación, a pretty town
Outdoor fun at Eco Reserva Mbatoví
---
Our complete guide to backpacking Paraguay is coming soon!
---
Uruguay:
A very European population with high living standards and vibrant city life in Montevideo, the capital. A developed country with very good infrastructure. The people are very friendly and helpful. You'll enjoy the progressive politics and mentalities.
2 or 3 weeks.
Comfortable holidays or "staycations"; slow travel; rural stays; urban culture; vegetarian travellers; LGBT travellers.
On the beaten path:

Montevideo, the capital
Punta del Diablo and Santa Teresa National Park
Colonia del Sacramento, small colonial town

Off the beaten path:

Cabo Polonio, secluded hippy spot
Tacuarembó, the gaucho land
San Gregorio de Polanco

Don't forget:
Uruguayan traditions are very similar to those of Argentina; but you don't want to mess around telling them that tango was born in Buenos Aires!
---
Our complete guide to backpacking Uruguay is coming soon!
---
Brazil:
A huuuge, diverse and colourful country with the rain forest, innumerable beaches but no real mountain range. Always lots of life on the street and friendly, welcoming people. The population is very mixed, but with a latent racism and sexism. It's a rich, economically developed country, with good infrastructure and prices are medium. Mind the very long travel distances.
2 months, or focus your trip on one region.
Very remote nature experiences; road trips; church-hopping in colonial towns; hot days at the beach; nightlife and culture with interesting museums; comfortable towns with all services; outdoor activities.
On the beaten path:

Rio de Janeiro and the Pão de Açúcar
Fortaleza
outdoor activities on the island of Florianópolis

Off the beaten path:

Salvador de Bahía

Don't forget:
The language of Brazil is Portuguese, not Spanish; it's a Portuguese that's very different from the one spoken in Portugal.
---
Read our complete guide to backpacking Brazil
---
Venezuela:
A poor country with a few major towns and many natural treasures, among the tallest waterfall in the world. Among the best hikes in South America. A lively culture with lots of street food and talkative people. Caribbean beaches and islands. A large but risky rain forest area that's home to the guerrillas.
Off the beaten track travels; budget travels; hiking and horse riding in wonderful nature; hot days at the beach; boat touring, water sports and outdoor activities; street food.
On the beaten path:

Salto del Angel waterfalls
Los Roques Archipelago
Medanos de Coro desert

Off the beaten path:

Mochima National Park
Mount Roraima
Caracas, the capital metropolis

Don't forget:
It's really not safe to travel to Venezuela right now; you should avoid it when you backpack in South America.
---
Our complete guide to backpacking Venezuela is coming… as soon as the situation settles down!
---
Eco backpacking travels in South America
Please remember that such a beautiful trip is a one-time opportunity to be a responsible traveller – and make your contribution to responsible tourism on the continent.
It's important to be respectful of the people you meet, even if their culture is different from yours; even when they stare at you because you look different. Many people will be happy to have their photo taken, but please ask them first.
Bartering prices can be fun, but don't haggle forcefully. Each object has its fair price; and that takes into account both what you can afford and what the seller needs to make a living.
When you travel South America, take the time to understand the reality of a place. It doesn't mean you should live 6 months in a region; a few hours may be enough. Just don't rush it. Ask questions. Listen. You're here to learn and grow.
Please, pretty please, avoid attractions that are ethically wrong. Because an attraction is advertised, even if it's a popular thrill, it doesn't mean it's right.
The plague that is plastic
Now, we really want to focus on this. It's not much more difficult to avoid plastic on your travels than it is at home. What you need is preparation and consistency. You just need to be ready with your own foldaway bags, your own reusable cup for takeaway drinks, your own cutlery for the food.
And If you don't have a travel bottle yet, you should really get one. One that isn't in plastic because, once again, plastic is not good for you.
Please check again our eco travels tips for responsible tourism
Are you planning a budget backpacking trip through South America? Do you have any questions we're not answering here? Feel free to tell us in the comments!
---
Like it? Pin it!
---
Don't miss any of our budget travel guides!