Mysterious ruins mistily nestled atop jungle mountains. Slow-paced life on the cobblestones of cosy colonial towns. Peru is a large country of many colours that sees more than its fair share of tourists all year round. And yet, with Lima and the Machu Picchu attracting most of the crowds, large parts of the country remain unknown. Since you're out there backpacking Peru, ready to follow in the footsteps of past civilisations, we hope to convince you to get off the gringo trail and explore lesser-known areas. We promise that they're just as worthy of your time. We've put together this humble guide to help you make the most of your backpacking time in Peru.
Chances are that this post contains affiliate links. We're not selling anything ourselves – we just help out products we find great. If you click one of them and decide to purchase, it'll be at no extra cost to you; and we'll get a trifle that'll help us bring you more awesome travel guides.
---
Jump to:
Backpacking Peru budget  |  Is Peru safe?  |  Destinations  |  Off-beat destinations  |  Eco travels
---
A few things to know before backpacking in Peru
Peru is cheap
One of the main reasons so many visitors decide to visit Peru is the price of things. To this date, it remains one of the cheapest destinations in South America. Of course, there are exceptions; for example, a visit to the Machu Picchu (if we add up the entrance ticket, the transportation and the accommodation there) requires a serious budget.
There are also higher prices for foreigners at almost every tourist attraction. But all in all, nothing that will ruin you. The cheap price of busses, hostels and food will make up for some of the more expensive activities.
The currency in Peru is Nuevo soles, called simply Soles. To help you budget your backpacking trip, here is a list of average prices in Peru as of November 2019:
| | | | |
| --- | --- | --- | --- |
| Water bottle (33 cl) | 1.69 soles | $0.51 USD | 0.46€ |
| Cappuccino | 7.60 soles | $2.28 USD | 2.06€ |
| National beer | 7.00 soles | $2.10 USD | 1.90€ |
| Menu in cheap restaurant | 9.90 soles | $2.96 USD | 2.69€ |
| 1 way in public transport | 1.51 soles | $0.45 USD | 0.41€ |
| Bus Lima-Cusco | 100 soles | $29.56 USD | 26.85€ |
| 1 night in a hostel dorm | 15 soles | $4.43 USD | 4.03€ |
The single most visited South American attraction is in Peru
No need to describe the infamous Machu Picchu, the Inca's main site and one of the most majestic. It is calculated that about 4000 visitors enter the site every single day; and this in spite of rules defining a cap of 2500 a day.
How come? Simply because that set of rules, that was created back in 2017, was never put into practice. They say that food is prohibited, that you are allowed only 4 hours on-site, that an official guide is compulsory… All these rules, as of January 2019, were not implemented.
The truth is that the Peruvian government isn't trying to contain the rush: the money it generates is too big. Machu Picchu brings an estimated $6 million USD a year to Peru, plus all the additional economic benefits (local jobs, accommodation, Inca trail, etc.) And projects to build an airport nearby will certainly not slow down anything.
So of course, people are still flocking to the "old mountain", the "lost city of the Incas" that was never really lost.
Peru has a lot to offer besides Machu Picchu
But if you're planning a backpacking trip to Peru, you won't stop at the Machu Picchu, Cusco the Inca capital, and the surrounding Sacred Valley of the Incas.
Peru has a lot to offer. Fascinating pre-Inca archaeological sites with dramatic mummies. Surf spots with sandy beaches and Pisco Sour cocktails. A large piece of the rain forest and among the tallest waterfalls in the world. Buzzing cities, colonial towns and ageless Indigenous villages.
Read further for a selection of our favourite destinations in Peru.
Peru's culture is quite different from the Western culture
Peru and Bolivia belong, along with Colombia and Ecuador, to the "Andean countries". They're probably the most distinctive among them, as their people and culture haven't been mixed with other influences.
Have you ever seen those photos of indigenous coca-chewing women carrying their babies on their back in colourful clothes? Well that's a scene of everyday life for many people in Peru, especially in the southern part of the country.
Peru is safe
It's always risky to declare that a country is safe. Shit does happen, to anyone – and it can happen anywhere. I got mugged twice in my life; and both times it was in nondescript places that I would myself consider safe, even today.
So let's put it like that: during our 3 months backpacking in Peru, we never felt at risk a single time. That's also because we always ask beforehand where we can wander or not; and we stay aware of our surroundings when we're walking in a city.
The usual rules apply, in Peru as anywhere else. Don't show off your valuables; keep an eye on your belongings; follow your instinct and wander off the crowded parts of towns only as long as you feel confident.
Pay particular attention in Lima, where muggings happen more frequently; especially in Callao and the northern districts – there precisely where you have no reason to go. Trujillo and Chiclayo are said to be risky too. While we can confirm that Chiclayo has an unquestionably seedy side, we would have never said that about Trujillo. Oh well, different people, different experiences.
We met a girl travelling alone through South America who complained about sexist behaviour in Peru; unsolicited compliments and pressing attention, that kind of macho stuff. Our solo female readers surely know how to act in such cases. Stay safe, girls!
The "risk" that is most likely to happen is that you pay double price for things. In Peru and Bolivia, sellers often see gringos as rich Westerners who won't mind spitting out a few extra dollars. Keep our price table in mind when you arrive at those countries; and spend your 1st day checking how much things cost, to get an idea.
Prepare well before backpacking Peru
Hygiene
We advise you to be careful with what you eat and drink in Peru.
Tap water is not drinkable. Don't try it. But at the same time, it would be bad to keep buying plastic bottles, right? So there are several ways to purify water for your daily consumption:
water purification as tablets, liquid or powder: can be expensive over time
boiling water during 1 to 3 minutes, on the previous day to give it time to cool; the water might take on a slight unpleasant taste
portable water filter, that's easy to carry and even easier to use
filter bottle: that's a normal travel bottle with a filter inside. Very handy!
Over time, any of these methods become a routine, one that can save you from many tummy issues!
For similar reasons, don't run head first to the first food cart or market stall, unless you've got an iron stomach. Have a look first at how clean the person keeps their (read: her) kitchen; that's a good indication of how clean the produce are.
On the other hand, if you want to make a very local dish yourself, check out 3 ways of cooking plantain easily.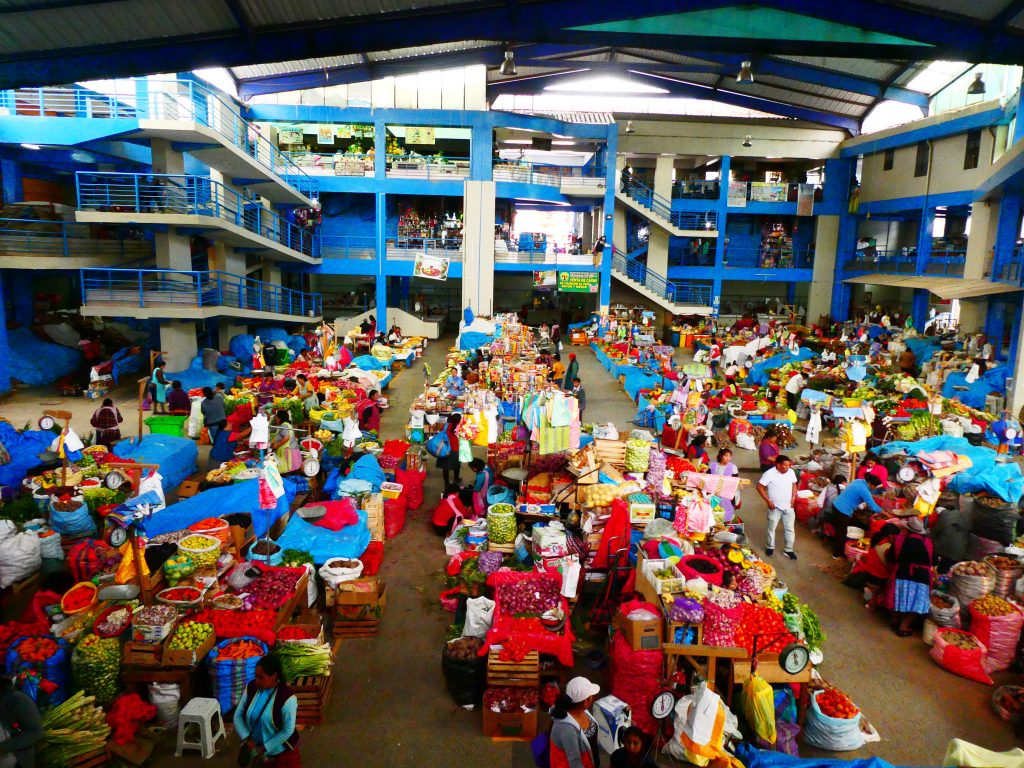 Transportation
No news here compared to other South American countries: the bus remains the cheapest means of transportation.
There's no need to book in advance, just show up at the bus station around 30 minutes before departure time; that's when you're most likely to get a good deal. Make sure you ask around the different companies that go your way and discuss the price.
As a general rule, all companies leave for the same destination around the same time. It's strange, but it's probably the same reason why shops of the same trade gather in the same street.
Read our guide to night bus transportation in South America
You can also find cheap internal flights if you plan long enough in advance. But honestly, we don't feel like advertising the plane here. True, Peru is a large country. If your Peruvian trip implies riding the bus for 10+ hours, maybe you should consider changing your journey..?
We know that many people visit Peru with a several-day tour. It's not something we advocate on Green Mochila, as we prefer self-guided exploration, with enough time to take everything in. But if you're in the country for only 10 to 15 days, it's possible to catch a glimpse of the main attractions with a tour from Lima. Some of them will bring you to Machu Picchu and to the Amazon in the south.
Start planning: What to see in Lima in 1 day
As for hitchhiking, we didn't try it ourselves. Rumour has it that it's doable; easier on the coast, and less so in the South, where most people don't have a private vehicle.
Couchsurfing
Couchsurfing might not be as widespread in Peru as it is in, say, Argentina. With enough anticipation, there's no reason you don't find a host in most places. The exception would be Cusco, which counts more AirBnB than Couchsurfing hosts.
During our backpacking trip in Peru, we stayed in a listed historic house in the centre of Arequipa; at a very kitsch artist's loft in Trujillo; took care of a lovely dog in Chachapoyas; and spent a night with a humble family near Segunda Jerusalen.
Backpacking destinations in Peru
How long you should spend time backpacking in Peru depends on what you want to see. But we recommend to plan at least 1 month backpacking in Peru. Alternatively, you could concentrate on one half of the country, north or south, during 2 weeks.
Machu Picchu
The over-tourism on Machu Picchu has turned rather drastic in the last years, and some travellers advocate skipping it altogether.
True enough, the awful lot of visitors has an impact on the site and on the nature surrounding it. But we're talking here about the ruins of an ancient village built atop a mountain overlooking a precious valley. It is undoubtedly one of the most incredible archaeological sites in America, maybe in the world.
Despite the sheer amount of visitors, the annoying rules and the outrageous overall price, we still think it'd be a mistake to skip it. It would be like visiting Rome and avoiding the Colosseum at all costs. Would you do that?
Read more tips on backpacking Machu Picchu here
Cusco and the Sacred Valley
Our problem as travellers is that we just don't have enough time, right? So when we decide to visit a new part of the world, we hop around from must-see site to must-see site. Well now, the Sacred Valley has a lot of those.
Cusco, the ancient Inca capital, is the heart and the head of the region. It's a historic site itself, an absolutely gorgeous mix of Inca and colonial architecture. But it's overwhelmingly touristy and we quickly felt oppressed; we recommend to choose another quieter town as a long-time base, like Pisaq or Urubamba.
If you're into old Inca stones, you'll be walking on air here. Pisaq, Ollantaytambo, Chinchero, Moray, Tambomachay, Saqsaywamán… The list is long! Add to these the Maras salt mines, the Rainbow mountain and many pretty hikes in the valley. We bet you could spend 1 month there and still discover new fascinating ruins and beautiful landscapes.
For many of those sites, you can get a Boleto turístico, a single flat-rate ticket; get it at the tourist office in Cusco or at any entrance booth.
Read more tips about backpacking the Sacred Valley here
Puno on the Titicaca Lake
Titicaca Lake is simply magnificent. It's so large and so high in altitude, it looks like a sea trying to touch the clouds. That's probably how many ancient civilisations felt too because it was revered as a sacred place.
The lake is divided between Peru and Bolivia. While the latter charms many tourists with the fishing town of Copacabana and the islands of Isla del Sol and Isla de la Luna, Peru offers Puno, the main town on that side of the lake, and the gateway to the floating islands.
These islands are completely made of reed and float on the lake, tied somehow to its bottom. All dwellings built on them are made of reed too. The Uros people welcome the many tourist groups as if they had been living there for centuries. Each visit allows them to supplement their traditional hunting and fishing lifestyle.
Arequipa and the Colca Canyon
The second town of Peru is not so well known as a touristic destination, but the nearby Colca Canyon is. The best way to visit one of the deepest gorges in the world is with a private tour. Unfortunately, bus timetables really aren't visitor-friendly if you plan a day trip. But there's always the possibility to camp or lodge in Cabanaconde, the nearest village.
We were in a moment of our trip when we wanted to spare the 70 soles entrance to the canyon, which is a protected area. It was also raining most of the time. We don't have any regret – it's rather a reason to go back. If you're in doubt, Unbridled World shows in photos why Colca Canyon is worth visiting.
Having said that, we loved Arequipa! The "white town of Peru" is yet again a colonial treasure box full of adorned churches. The main square is vast and leafy, lined by palaces and an impressive cathedral; and the historic part is a labyrinth of cobblestone alleyways. We definitely recommend a few days there.
Read our post on Arequipa
Nazca lines
I can't believe we're in 2020 and still don't understand how the heck the Nazca lines were made! Those extensive lines representing symbols and animals were carved in the desert soil between 500 BC and 500 AD and no one can tell what they mean.
Located 420 km south of Lima, the Nazca desert can be visited from the nearby town of Nazca; you'll have to get there by bus. Then, you have 2 solutions, and that's where it gets itchy. Either you climb up a 13-meter (42-foot) tower to get a very partial glimpse of the drawings, or you spit out around US$80 for a 20-min flight above the lines.
Many travellers stay around only for the day, just the time to look at the lines. If you're interested in understanding a bit more what's going on there, plan a couple of days. You'll get to know cool mummies, surreal aqueducts, stroll in the desert and see the stars at their best.
Huaraz
Huaraz is another one of those towns that haven't much for themselves but are ideally located. Thanks to the nearby Huascaran National Park and the Cordillera Huayhuash, it's now the headquarters for many backpackers and mountaineers.
You will find there many occasions for day trips or even for multi-day hikes. The town provides accommodation, gear and tours if that's your thing. We've counted at least 20 attractions around Huaraz, including lakes, mountains, glaciers, canyons, pre-Inca sites and hot baths. You'll probably get tired but certainly not bored!
Read about 3+1 beautiful hikes near Huaraz here
Backpacking Peru off the beaten path
Peru is guilty of Inca-centrism. All the spotlights are on Machu Picchu the money-maker, leaving many amazing locations in the shadows. Among them are pre-Inca citadels, colonial towns and record-breaking landscapes.
Choquequirao hike
Imagine old stone ruins scattered in the jungle on top of a mountain. You can roam freely without barriers and without rules other than your common sense.
Imagine that to get there, you have to walk 2 long days; going down a mountain, crossing a river, then climbing up another mountain; then back the same way. There's nothing on the way but a few camping sites and a village where people live secluded.
Now imagine camping there for as long as you wish, waking up with the mountain mist and wandering on jungle paths among lost Inca buildings.
That's the Choquequirao experience. A difficult hike that is rewarded with life-long memories. All this for 60 soles + 5 soles per night. It's possible to continue the trail for a few more days, even as far as Machu Picchu itself.
Read more tips on hiking the 4-day Choquequirao trail here
Trujillo
You could visit Trujillo merely for the pretty colonial town that it is. Some gorgeous palaces alternate with hype bars and cafes, making the town one of the most modern in Peru. It seems pretty well-off, or at least decisively clean.
Most people halt in Trujillo for nearby Huanchaco, a seaside town known to international surfers. It's full of hostels, bars and beatnik vibes. But only one person sells churros on the beach, which I think is a scandal.
You should also go to Trujillo for several archaeological sites, among which the monumental Chan Chan. It was the largest city in pre-Hispanic times, spanning 20 km² and all built in mud (adobe). Visit it before the erosion takes it.
Tarapoto and the Amazon Rainforest
We won't stop rambling about the Amazon rainforest anytime soon. Firstly, because it desperately needs our help. We have the vague feeling that telling the world how beautiful it is is a way to help it. Secondly, because it covers about 1/3 of the whole continent and 9 countries; we can even say that there's a bit of the Amazon in France (nowhere near the Eiffel Tower though)!
The most famous gateway to the Amazon in Peru is the jungle town of Iquitos. It's so remote that you can access it only by plane or by boat; a feature that seems to attract many backpackers.
Another part that receives many visitors is in the south, around the town of Puerto Maldonado. If I don't err, that's where the 2-week tours leaving from Lima bring you after Machu Picchu.
As usual, we went for the underdog and chose Tarapoto. It's an unremarkable town surrounded by the jungle. There are amazing waterfalls, a peaceful Lake Azul, and the Cordillera Escalera; a protected part of the Amazon which is only 1 hour by walk from the town centre.
Read about our most amazing experience in South America, hiking alone in the Amazon Rainforest
Chachapoyas
Have you noticed how all of Peru's famous spots are in the south of the country? The northern half gets little attention, and yet is overflowing with treasures, both natural and cultural.
The region of Chachapoyas is really not to be missed. What you can find nearby is a stunning citadel overlooking a valley, some of the world's tallest waterfalls, ancient sarcophagi, an archaeological museum with startling mummies, an impressive cave, a pre-hispanic mausoleum and a vertiginous canyon.
In case that's not enough for you, the small town of Chachapoyas is also very charming, with its cobblestone streets, viewpoints and cosy cafes.
Read about the site of Kuelap and about the waterfalls of Gocta
Cajamarca
It's likely you will not find Cajamarca mentioned in many travel guides. Yet this lovely colonial (yet again!) town charmed us with the slow-paced life on its cobblestone squares. It's full of churches and cosy cafes; there's a large market and a viewpoint that's right next to the centre; and several spots around that are worth the visit.
We'll mention the hot baths of Baño del Inca (which has definitely more baño than Inca); the Ventanillas de Otuzco archaeological site; and the outstanding modern church of Polloc, all made of colourful mosaics. Unfortunately, the latter and some others are difficult to access with public transportation.
---
Travelling further? Check our guide to backpacking in South America!
---
Eco backpacking travels in Peru
We don't want to bore you again with the same usual recommendations. We know you are a responsible traveller – otherwise, you wouldn't be reading Green Mochila.
Of course, you are respectful of the people you meet, although their culture is different to yours; although they raise guinea pigs in their kitchen to eat them. We're sure you don't take photos of old traditional ladies without asking them first.
Of course, you barter at the market but don't haggle forcefully. Each object has its fair price; and that takes into account both what you can afford and what the seller needs to make a living.
Of course, you never wild camp where it's not allowed, don't start a fire when it's forbidden. And you always take your rubbish with you when you hike; maybe even pick up what inconsiderate hikers have left before you. Basically, you leave the spot as nice and tidy as when you found it, right?
The plague that is plastic
Peru, like most South American countries, is guilty of overuse of plastic in its daily life. It will take time for habits to change…
So if you don't have a travel bottle yet, you should really get one. And be ready with your own reusable cup for takeaway drinks, your own foldaway bags and your own cutlery for the food.
Please check again our list of eco travels tips for responsible tourism
Are you planning a backpacking trip to Peru? Do you have any question we're not answering here? Feel free to ask us in the comments!
---
Like it? Pin it!
---
Don't miss any of our backpacking stories!