Koo-ree-tchee-ba. It might sound like the Indigenous name of a wild bird species, but it's not. Curitiba, the 8th largest city in Brazil, is as modern as it gets. If you're working your way overland through the South of the country, chances are that you saw the name of Curitiba on the map. If nobody ever mentioned it to you, we wouldn't be surprised – but they're wrong. The capital city of the Paraná region is not a widely-visited tourist destination, but a relaxed one and damn interesting. This city grew close to my heart for a number of reasons that I want to tell you in the next 3000 words. Let's see if I convince you to visit Curitiba during your trip through the bundle of wonders that is Brazil.
It was raining most of the time during our visit to Curitiba, more than anywhere else in Brazil. So much so, that we hardly took any picture. We want to thank all the photographers whose photos we're using for this post.
---
Jump to:
What to do in Curitiba  |  Day trips from Curitiba
Sustainable city:
Architecture  |  Sustainability  |  Transportation  |  Green city
Practical tips:
How to go  |  When to go
---
"Freshly" arrived after our long night bus from Rio, we crossed a Curitiba that was quiet in the early morning. Let's be honest: we were here only as a pit-stop on our way to Iguaçu – but ready to be surprised.
We walked to our hosts' place in the centre, a mere 20-minute straight walk from the bus station. On the way, the market hall was just opening its doors, but we promised to come back later. Jacques and Gloria were waiting for us with a full breakfast…
So, why visit Curitiba
Have you been to Rio de Janeiro, Belem or Salvador de Bahía yet? If so, you've already taken a habit of not walking down the streets in the evening; using instead apps like Uber or 99, if you could get the WiFi, that is. We know that those places can be dangerous after dark, especially (but not only) if you look like a tourist.
Well, there's nothing of the sort in Curitiba. The city, or at least the whole centre, is completely safe to stroll at night. We were also back to paying peanuts for food after some more inflated prices elsewhere. That was a super nice change after Rio!
Don't get us wrong: we loved Rio and we tell you why here.
If you are or will be backpacking in Brazil for a bit, I'm sure you'll understand what I mean. To feel no pressure from crime or high prices makes one's mind free and rested. And that is the serenity we got in Curitiba.
With our free and rested mind, we discovered other reasons to visit Curitiba, Brazil:
Interesting, modern architecture, especially by Oscar Niemeyer, the guy who co-created Brasília
Many parks, making Curitiba nothing less than "the greenest city on Earth"
Award-winning sustainability projects, including Brazil's most modern public transport system, fair housing projects and waste management
Places to visit in Curitiba and things to do
The attractions in Curitiba aren't as spread out as in other Brazilian cities; so you can just gently stroll on your sightseeing from one to the other. That way, you'll definitely have time to sit down at a pastelaria (patisserie) and enjoy a slice of bolo (cake). Or two!
We think it's good if you spend 3 days in Curitiba; and divide your time between doing fun things in different parts of town:
Centro & Botanical Gardens
Centro Cívico
Northern districts: São Lourenço, Abranches, Taboão, Pilarzinho
Things to do in Curitiba Centro
We were really surprised by Curitiba, in more than one way. There's enough life on the streets and the squares, but it's not bursting at the seams; you would hardly guess this is a 2 million-people metropolis. We would have that feeling again in Porto Alegre, although that is palpably smaller.
The centre is the part where you'll find most hotels and hostels for every budget. On our evening stroll back from a free movie projection, we saw many youngsters sitting and drinking on the street. We went for a craft beer in one of the many bars not far from the flower clock.
We recommend you start your Curitiba sightseeing walk from the main square, Praça Tiradentes, maybe with a glance at the basilica.
Check out the Ground Zero landmark before heading towards the Memorial de Curitiba. Continue to the Red House, Casa Romário Martins (which is the oldest house in Curitiba) and Paço da Liberdade. Photos about Curitiba often feature this iconic building, which is the old town hall. Visits are free from Tuesday to Friday. Then head further to the surprising Arabic monument (Memorial Árabe) on Praça Gibran Khalil. 
OR just follow your nose and your curiosity. Look at the names of the buildings, the weird public art. Follow the crowd on one of the walking streets, like Rua 15 de Novembro. On weekends, Praça da Espanha is buzzing with an antiques fair.
One of the most interesting things we did is tracing back buildings and landmarks to Curitiba's European origins. We do have peculiar interests. It took us on a stroll downtown with our Couchsurfing host. Jacques is French but has lived in Curitiba many years and was passionate about the city and its history. 
One of our 2 favourite parks on our own Curitiba sightseeing tour was Passeio Público. It's a family-friendly green oasis showcasing peacocks, flamingos and other animals. You can check out the local parrots in every colour of the rainbow and even more.
The other park where we liked to chill (when it wasn't raining) is Praça Osório at the end of the main avenue, XV de Novembro. At the time, there was a food market with culinary specialities from different Brazilian regions, such as acarajé from Bahía.
By the way, are you a foodie? Learn about acarajé and my other Brazilian favourite foods
Alternatively, wander further west to Parque Barigui, a good place to sight exotic birds and the ever-so-sweet capybaras.
Admire the Batel district and the Castelo do Batel
The look of this palace was inspired by the Loire castles in France and was built in 1922. It's located in a chic central neighbourhood of Curitiba called Batel.
It's an events venue, and we don't think you can visit inside; or at least we didn't find a way to sneak in. But you can at least admire the facade and wonder how a piece of the French countryside got teleported here.
Together with Santa Felicidade district, it's known as Curitiba's restaurants quarter. As you'll quickly see, there's a strong Italian flair around; and the Italian Woods (Bosque Italiano) host many gastronomical festivals.
Explore the Botanical Garden
The Jardim Botânico is a pretty cool place to visit. Especially in warm weather when you can marvel at the native flora from grass level, that is sitting down. And if we add the metal Art Nouveau style building that houses a beautiful French garden, it's an absolute must!
There's a 200-meter trail within the botanical garden, where you can learn and sense native plants and natural landscapes (which, in Brazil, is of course fascinating!). You can reach the gardens with a short walk from downtown, they're open 6 am-7:30 pm.
Climb up the Panoramic Tower
The city of Curitiba is desperately flat. That's good news for those who like the walk but not for those who prefer the view. Fortunately, they've built a glass telecom tower that's open to the public for a 360 degrees view of the city. Clever!
Closed on Mondays, it costs RS 6 to go in.
Things to do in Curitiba – Centro Cívico
This district, north of the centre, is the city's administrative area. It's full of beautiful architecture scattered in a quiet environment, with a great art museum and even a small wood.
Stroll along the quiet avenues
Admire the modern buildings gathered in this part of town. There are several palaces, squares and public artworks that could well captivate you for a few minutes (each). There aren't many places where to grab food from, so bring your pão de queijo with you.
We didn't visit the Holocaust Museum because, well, we live in Berlin, Germany. We regularly learn first-hand about the Holocaust, that horrendous period of time that should never be forgotten and never revered. This one seems to require a reservation to visit but is free. Closed on Thursdays and Saturdays.
Visit the Oscar Niemeyer Museum
My number one attraction in Curitiba –that you must include in your sightseeing– is an interesting contemporary art museum that we visited on a Wednesday. Why on a Wednesday? Because on Wednesdays it's free to visit, that's why. #BudgetTravellersForLife
It's called Museu Oscar Niemeyer (site in Portuguese) and abbreviated as MON. It exhibits the most important Brazilian contemporary artists (many of them women, I was happy to notice) and international artists; an Asian collection was also on display when we were there.
Considering that it's a regional museum, I found the exhibitions quite impressive, and the guiding commentary to the Asian museum eye-opening.
The building itself is called "The eye" (o olho) and is an attraction already; it was constructed by Oscar Niemeyer, one of the 3 guys who built Brasília from scratch in the 1960's. This museum is among his most famous buildings, and we can see why. It's definitely one of the most fun things to do in Curitiba.
What to visit in the northern districts of Curitiba
The northern part is the green lung of the city, with parks full of flora and fauna, so it's among the most relaxing things to do in Curitiba. It's really cosy, for a fresh stroll and a picnic, away from the cement and stones of the centre. 
This long park with a weird gut shape takes its name from a native tribe that lived in the region. It's part of a project to create a linear park all along River Barigui, connecting Tanguá Park to Barigui Park. There are sweet little capybaras roaming about.
If you are further interested in the European roots of Curitiba, visit the Ukrainian Memorial; it features a replica of a Ukrainian traditional house made of wood, some 11,500 km (7,150 mi) away from Ukraine. It's this one:
We don't know if it's possible to walk along the river from one park to the other; but otherwise, it's just a 50-min walk, from the district of Pilarzinho to Taboão. For us, this kind of park-hopping ranks among the best things to do in Curitiba Brazil.
Tanguá Park offers a circular walk around a lake, with a lookout over the greenery and even a modest waterfall. Is it lunch time already? There's a restaurant inside.
Wire Opera House or Ópera de Arame
This functioning opera house is a round glass building in front of the Parque das Pedreiras, district of Abranches. Built in 1992 by Domingos Bongestabs, it's a rather intimate space, with only 1000 seats, literally surrounded by the green vegetation outside. Due to the environment, I think this is one of the best things to do in Curitiba.
Visit it for free from Tuesday to Sunday and once there, don't forget to look up and marvel at the glass ceiling. Or if you'd like to watch a show, check here the program. 
This nearby park is yet another green area surrounding a lake; we told you that Curitiba is the world's greenest city, do you believe us now?
It might not be as clean and pretty as the other parks; but it's still a cool spot for a bit of outdoor running.
A bit more to the east, in the Bacacheri district, lies the park of the same name. It's yet another verdant city park encircling a lake. In case you didn't have enough yet.
There's also an Egyptian Museum nearby, with mostly replicas of Ancient Egyptian works. It's probably splendid if you've never been to Egypt (or to a real archaeological museum).
Day trips from Curitiba
If you decide to spend a bit more time in the region, here's what could tickle your interest:
A wide artificial lake to the west of Curitiba, about half an hour from the city centre. It's the perfect green getaway if you happen to stay longer around. Canoe through, bike around, or just have a walk and watch the birds.
A small town filled to the brim with stunning historic buildings. It's small, cute and quiet, and the Nhundiaquara River that flows through makes it seem even more peaceful. There's not much of a bustle in Curitiba, but if that's already too much for you, head to Morretes.
The Curitiba-Paranaguá train, also known as Serra Verde Express, is one of the most scenic you can take in Brazil. The old fellow rak-a-tak-taks on a pair of rusty rails through a lush forest, for a 1-hour exotic ride.
Let's be frank: it's a touristy attraction that matches perfectly with tours to Ilha do Mel. It can be pricey so no harm in taking the bus back to Curitiba after your visit of the coast.
Day trips to the Atlantic forest
The Atlantic Forest is a unique ecosystem that stretches from the coast of Brazil, inland until the north of Argentina. You will see it around Iguaçu Falls; but the state of Paraná offers several conservation areas that are perfect for day trips from Curitiba.
The most accessible part is the Guaricana National Park, a small hilly forest paradise. Trails aren't always easy to follow and the information at the entrance is nonexistent; but with a good offline map, you're good to go. The lack of information in protected areas is a direct consequence of the lack of governmental interest. #EleNão
The completely off-the-beaten-track Superagui National Park includes a stretch of coastal forest and a set of islands inhabited by fishermen. It's a very authentic place with little infrastructure, that gets awfully hot in the summer (November-December).
Try and get a fisherman to show you around and bring you from island to island. It's part of the Guaraqueçaba Environmental Protection Area which protects the only 15% that remain of the Atlantic Forest.
Ilha do Mel (Honey Island) is also a sweet location, more often visited than the previous ones, especially by national visitors.
---
Curitiba population: the melting pot of Brazil
Besides the usual Brazilian rainbow of white, mulatto and black people that you probably encountered in other cities, Curitiba also gathers a large population of Italian, German, Ukrainian, Polish etc. descent. In fact, the city was founded by expats in the 17th century. Not quite digital nomads back then, but let's say their forefathers.
In general, as you travel in Brazil from north to south, you'll notice more European features on the people's faces. This melting pot, that is also alive in the names of places in Curitiba, was a real surprise to us. The German Woods, the Italian Woods or the Ukrainian Memorial, are more than names. They represent the communities that built the region and made it what it is today.
The architecture of downtown reflects this history with many colonial buildings – which are remarkable already; but the 20th century changed the face of Curitiba's urban landscape. And that's where the real value of the city lies.
The architecture of Curitiba: an example in Brazil
Unfortunately, I don't know as much about architecture as I'd like to, but Curitiba's buildings amazed me. As we walked downtown, we saw an eclectic mix of buildings from different styles, such as colonial, indigenous or oriental. Many of the modern buildings were built as part of the urban planning project the city launched in 1968. More about this feat in a minute.
The city centre has a really nice walking area. In general, the buildings are rather low and Curitiba has a small-town feel; that's despite being the capital city of a region that is almost as large as Great Britain. Everything takes a new proportion in Brazil, the 5th largest country in the world.
Sustainability in Curitiba
We urban dwellers often complain about the living conditions in the city. We moan about the air pollution, the noise pollution, and that our mayors don't do enough to improve everything. We're right to complain, and there are more and more projects going in that direction; it gives hope for a more liveable future in the city. Well, hear hear, ladies and gentlemen: Curitiba already did it!
In 1968, the local government accepted the master plan that would transform the city. It drastically improved the quality of life of the residents and put Curitiba on travellers' radar by changing its image.
While the 1960's saw Curitiba as a polluted and overpopulated city due to mass migration from rural areas, nowadays it has a sustainable transportation system, numerous parks and green areas and a more ecological city centre with exemplary waste management and housing projects. Now what about that, [insert your city's name here]?
It comes as no surprise that Curitiba is nicknamed the Model City ("Cidade modelo"), or the Green City ("Cidade verde"). It even has a tree on its emblem. But I prefer the name it officially gives itself: A Cidade da Gente ("The people's city" or "Our city").
Read more from the UN about Curitiba urban planning
Transportation in Curitiba
Although it's perfectly possible to cross downtown by foot, reaching areas further away needs transportation. In Curitiba it takes the shape of an efficient Bus Rapid Transit system. It sounds like a medicine to help your digestion; it's actually a network of looong buses with their own, exclusive bus lanes and metro-like stations.
We took the bus a few times in Curitiba (when it was raining too hard) and had a great experience; it was not overcrowded, and it was fast and frequent enough. When you hear tales of commuters sitting hours in traffic jams in Rio or São Paulo, you've got to love Curitiba!
I liked the architecture of the stations too, they kind of look like a futuristic suppository; that's probably where the transit system took its name from. In any case, they fit to the modern image of the city. Look:
The green city
If you've been on Green Mochila more than the average 96 seconds a reader spends on a blog post, you know that Anthony and I are really into waste reduction.
So we were happy to learn that 70% of Curitibanos actively recycle and the collected material does get reused! This is a big deal when you see that recycling in other parts of Brazil –and, for that matter, in South America– is basically non-existent.
Curitiba has been nominated the greenest city on Earth; and the "green" is literally brought to the population at a whooping 52 square meters of green space per capita.
So expect to see a lot of parks on your visit to urban Curitiba in Brazil, some of them even called "woods". The German Woods (Bosque Alemão) is in the northern Pilarzinho district; the Italian Woods (Bosque Italiano) is in Santa Felicidade; while the John Paul II Woods (Bosque João Paulo II) is next to the Oscar Niemeyer Museum, in Centro Cívico.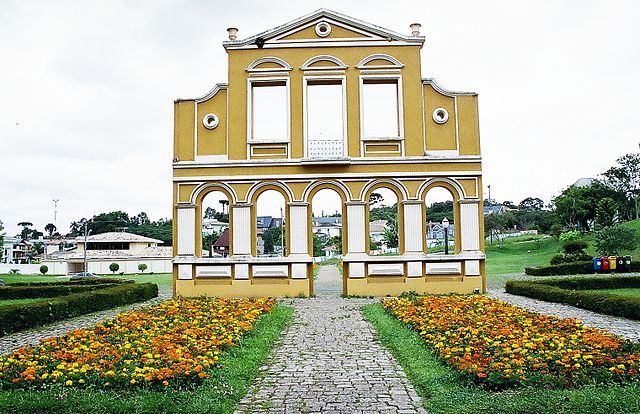 How to get to Curitiba
Curitiba is in the state of Paraná in southern Brazil, and we found it a perfect stopover before Iguaçu Falls.
Well, you know… the Iguaçu Falls.
There's an airport 18 km outside of the centre, with both a shuttle and city buses doing the route regularly. But, hold on, are you coming here by plane?
The bus station is at walking distance from the centre, close to the market. There are frequent direct buses from and to Rio, São Paulo, Foz do Iguaçu, Florianópolis and Porto Alegre.
Curitiba weather – When to go?
Because the city is sitting on a plateau, the climate is generally mild and wet (we got the experience first-hand). We say 'mild', we could even say 'chilly'; especially if you're already used to the warmth in the rest of the country and have thrown away your jumpers.
It's warmer in January (16-26ºC / 61-79ºF) but there's also more rain; while in the Winter (June-September), temperatures go down until 8-19ºC (46-66ºF) but it's less likely to rain.
Curitiba is not a victim of over-tourism, so there's no better time to visit in that respect.
So, in short: is Curitiba worth a visit?
Although the city is not comparable with tourist magnets like Rio de Janeiro or locals' favourite Florianópolis and its beaches, the cultural traveller will definitely enjoy a visit to Curitiba.
It's safe, which is not a detail in Brazil. It's also a great halt to relax after the hubbub of more tumultuous cities. You can visit it in a relaxed pace and can be a witness of a sustainability success story! For me, I could fully appreciate Curitiba knowing the immense urban master plan behind it.
The one dark side of Curitiba
I need to tell you about something absolutely outrageous that happened during our visit to Curitiba. I wish I could find the words to explain how disgraceful it was. In fact, I am still in a state of shock just thinking about it.
In the Estação shopping centre, where we went to buy a travel lunch box, I was happy to find kürtőskalács, known as the chimney cake – my favourite Hungarian sweet. Except that they were selling it as a Romanian delicacy, the fools! Of course I couldn't walk by without a word. Some things are just too important to ignore.
★
Which city do you think has the most interesting architecture?
Do you look more at modern or ancient buildings?
Give us your opinion in the comments!
---
Like it? Pin it!
---
Don't miss any of our travel stories!